Have any of you seen the 1984 movie Children of the Corn? Yea, I grew up on all those movies. (There is a reason why I'm bringing this up)
You see, there's this character from the movie (and book) and his name is "Malachai".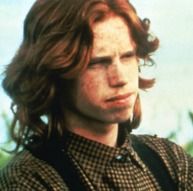 He's not very attractive is he... in fact all those kids creeped me out. In this one scene Malachai is getting called out. (shivers).
For YEARS when ever I read about a "Malachai" or hear the name, all I can think about is this red- headed actor.
So, I should probably thank Sarah Fine for now replacing that old "Malachai" with the NEW "Malachi"
MUCH better!
on to the story -
it was a nice change from the other YA stuff I've been reading, no vampires, werewolves, dystopia. Just Hell.
"Bad acting was kind of an epidemic in hell."
Am I saying this was a flawless read and it was brilliant? No, I'm saying that I was entertained and enjoyed it so much I'm looking forward to the second book arriving at my library.
I wouldn't be surprised if this gets turned into a movie.
While looking up some stuff on the book I found an interview with Sarah Fine and who she'd cast.
Also you can read journal entries from Malachi Here.