So it seems that my reading has definitely taken a backseat. Between doing end of year testing, getting the pool ready and getting ready for vacation I can't find time to get all wrapped up in a book.
BUT, I have found time (between 11pm - 2 am) to finish up a Korean drama I started months ago.
Fated To Love You. While I thought it was okay, there were several parts that made me laugh out loud. Especially the "sex scenes" Which were really comical. One had the two actors pounding Rice, with the actress blushing and giggling
the other was Rice & Barley game where they try to catch each other's fists in their hands. I know you can't imagine it, but it really was well done. (still laughing over it)
On to the books..
These Broken Stars by Kaufman & Spooner
I don't know why I couldn't get into it the first time I tried reading it, but this time I started reading and it just clicked.
Things I did like : the book is sci-fi, the interview pages and Tarver.
I'm not sure I'm gonna jump right into the next book, but I'll read it eventually.
I'm giving this one 3 stars.
Now let's talk about Andy Weir's The Martian.
Why did it take me so long to read this one?? It pretty much had me from the very first line
"I'm pretty much fucked."
I loved it. I was really worried it was going to be a lot of technical jargon that was going to go way over my blonde little head,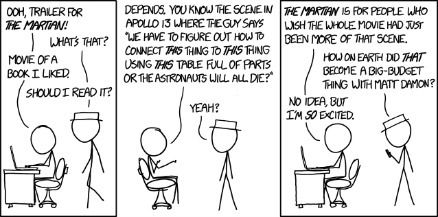 but ah ha! It didn't and it was so well done.
"The problem was exhaling. Do you know how much oxygen you absorb out of the air when you take a normal breath? I don't know either, but it's not 100 percent."
So many quotes that I liked! I may have to buy my own copy so I can highlight the crap out of it.
"Yes, of course duct tape works in a near-vacuum. Duct tape works anywhere. Duct tape is magic and should be worshipped."
(show spoiler)
I can't wait to see this one on film! I'm giving this one 4 1/2 stars.
Anyone watching SUITS? Last night I watched the last episode in season 4 and all I can say is Really Harvey? That's all you got?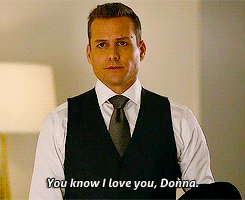 I'll let you guys know when I finish up the next K-drama: Secret Garden