Seriously was gonna abandoned this book! I just couldn't get into Jordan, the way she talked ,the way she was with people.
I felt like the whole story was immature and petty...but it was the character "Henry" that made me want to keep reading.
This book ends up having a very "Dawson's Creek" feel to it.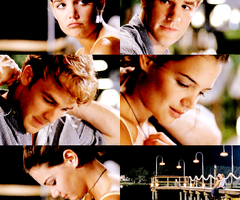 That may be why I stayed up until 2 am to finish it. (If you can make it past page 85, you'll be good)
After finishing it I had only one complaint did Ty have to sound like a huge control-freak? I mean I was starting to think he was gonna end up being an abusive boyfriend. It made his character feel icky. I seriously wanted to yell at Jordan that he was no good for her.
I ended up liking this book.(despite Jordan!)

"When unrequited love is the most expensive thing on the menu, sometimes you settle for the daily special"

Another quick complaint, I don't like the way the author had the characters constantly talking about having sex like it has no meaning behind it, like it's just something to do.