This is how I feel about this book: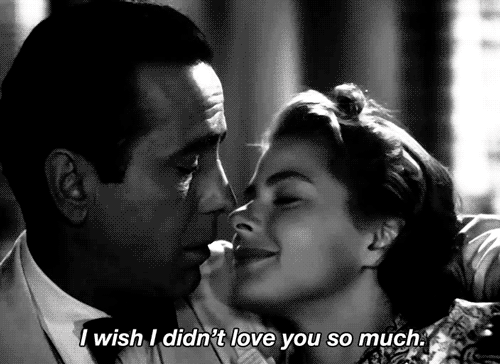 (I have a confession. I've never seen Casablanca. Never. Ever. But now I feel I must see it!)
This book was/is getting a lot of hype, "It's great better then Slammed". I hate when I see reviews like this, because I immediately think, "oh it's probably gonna suck."
But guess what? It didn't suck.I didn't want to put the book down. From the very beginning the author's words sucked me in.
They painted a picture that was very easy to see in my head. Or I should say I felt like I was in Maise's head. She is funny & sad and bitchy, but I liked all of her.
"I'm not going to do the whole rollercoaster /falling in love metaphor. I didn't fall in love with him up there. Maybe I fell in love with the idea of love, but I'm a teenage girl. This morning I fell in love with raspberry jam and a puppy in a tiny raincoat. I'm not exactly Earth's top authority on the subject."
Now let's talk about Evan, I don't like him. But the book isn't really suppose to make me like him. I mean come on it's a 33 yr old teacher doing it with a 17 yr old student. The story is more on Maise taking control of her life and learning to live and not "just be" and that's what Evan helped her do. Still, I'm having a hard time with Evan. I actually was on board for the whole teacher student thing, but then you find out
(show spoiler)
Let me just say that this book is a Mature Young Adult. Just in case you were gonna file it under YA, don't.
With that out there, let's talk about the sex between Maise & Evan. It was intense and sweet and at times rough, but always HOT.
The biggest complaint I have is toward the end - the plot of being blackmailed/drug supplier. It just didn't feel like it fit in there, not that some one would have blackmailed her knowing, it just felt like the story was now going in a different direction.
By the Very end I was on edge, thinking this was how it was gonna end
And I was gonna Hate Evan and throw the book down.
Thank God that's not how it went down! I really enjoyed Maise's story and only wish I knew years later that she was still happy.
"...You should love something while you have it, love it fully and without reservation, even if you know you'll lose it someday. We lose everything. If you're trying to avoid loss, there's no point in taking another breath, or letting your heart beat one more time. It all ends." His fingers curl around mine. "That's all life is. Breathing in, breathing out. The space between two breaths."