So I've been tagged..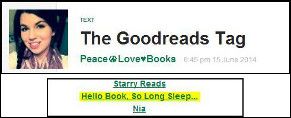 Which gives me the opportunity to tag other people,
hahaha,
oh first I have to answer the questions..
1. What was the last book you marked as 'Read'?
Maus I: A Survivor's Tale: My Father Bleeds History
2. What are you 'Currently Reading'?
Say What You Will by Cammie McGovern
Nineteen, Twenty-One by Zhena Yohan
3. What was the last book you marked as 'To-Read'?
The Walking-Stick Forest by Anna Tambour
4. What book do you plan to read next?
The Lies Of Locke Lamora by Scott Lynch
5. Do you use the star rating system?
Yep. 5 star rating scale and here's how I use it.
6. Are you doing a 2014 reading challenge?
Yes , and it's suffering because of Netflix & my addiction to Binge watching Series.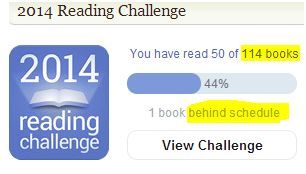 7. Do you have a wishlist?
yes, which includes bigger boobs,
but I guess this means "book wish list" so the answer to that would be NO.
8. What book do you want to buy next?
I really don't purchase books,
but I might force ask my sister to purchase an ebook I want to read later on,
just not sure which one at the moment.
9. Do you have any favorite quotes? Would you like to share a few?
OH!! This section could be crazy long, I'll try to limit myself..
"We're gonna need a bigger boat"
"Looks clear"
"Blast this Christmas music. It's joyful and triumphant"
"Multi-pass!"
"So Say We All"
*Really there's like 20 from Slither, but I'm not gonna make you read all those*
"If every person in this room made it a rule that wherever you are, whenever you can, you will try to act a little kinder than is necessary - the world really would be a better place. And if you do this, if you act just a little kinder than is necessary, someone else, somewhere, someday, may recognize in you, in every single one of you, the face of God."
― R.J. Palacio, Wonder
"But enough about my superficial complaints. Who cares, right? My body made PEOPLE. I'm like a wizard. Wizards don't need perfect bodies because they wear robes. I have a robe."
― Amber Dusick, Parenting: Illustrated with Crappy Pictures
"In the end only kindness matters." ~ Jewel
10. Who are your favorite authors?
Ann Aguirre, Melissa Marr, Melina Marchetta,
11.Have you joined any groups?
not on here
12. Are there any questions you'd like to add to this tag?
Yes ---(adding)
13. Last book you abandoned?
Take Me On by Cherrie Lynn
People I'd like to tag
Sharon is an Emotional Book Junkie
A Reciprocal love affair with books
why yes ,I do have a goodreads account, here's ME = )