Let's talk about A Light In The Attic or, what we call it in my house, "reading material for future psycho paths"
A book that Barnes & Nobles says is for ages 4 to 8, Scholastic has it for reading level 3.2
I've tried to be as fair as I can be while reading this. I mean I LOVED The Giving Tree! It made me weep, I bought 2 copies, shared with friends. So how bad can this book be?
Well now I'm rethinking the whole Giving Tree book. I think Shel Silverstein has mental issues.
I am gonna be a little more critical in this review than I am with other books, but it's to be expected with a book geared towards children.
This review will show the poems I really liked and the poems I really didn't like.
Lets start with the ones I would recommend :
How Many, How Much
Picture Puzzle Piece
Messy Room
Ations
The Meehoo with an Exactlywatt
Rockabye
The Little Boy and the Old Man - LOVED this
Zebra Question
The Lost Cat
The Oak and The Rose - I felt this was a little sad
The Bridge
Now Let's talk about the other stuff in this book. The ones I disliked, a lot. When Silverstein got the poems right, they were great! But when they were bad...they were Disturbing :
How Not to Dry Dishes - tells the reader that if you drop them on the floor you won't be asked to do them any more. Is that something we want to teach little ones?
Prayer of the Selfish Child - a child prays that if he dies before he awakens, that all his toys break so no one else can play with them
Monster I've Met - So a child meets a ghost, a devil,a vampire and then makes the comment that he keeps "meeting all the right people- at all the wrong times." A devil is , "right people"?
ummm NO
Something Missing - it's not so much the poem , it's more the illustration.
I'm sorry that is NOT a piece of his shirt.
Day After Halloween - disturbing illustration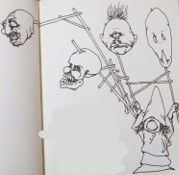 Thumb Face - How can I put this, do you remember the movie The Shining? You know when the child is talking to his finger!

This story is a twisted tale of "Thumbkin. and I am kinda laughing about this one, because of the illustration.
Cloony The Clown - First, let's talk about the the illustration.

Hmm what could that be on his face? oh it's only a nose.(yea, right) Okay on to the storyline. Cloony isn't funny. At all. So one day Cloony tells the town what it feels like to be an unfunny clown. Why he looked sad and felt bad.
"He told of Pain and Rain and Cold
He told of Darkness in his soul.."
After all this soul baring, you know what the town did? They LAUGHED at him. The story ends with "and while the world laughed outside, Cloony the Clown sat down and cried" How awful!
My Guitar - just weird odd scary illustration
Spelling Bee has an illustration where you see a Butt
Ticklish Tom ends with a child getting run over by a train, but parents could use this poem to teach being silly at appropriate times
Who Order The Broiled Face? - who in the world eats broiled face? oh that's right Jeffrey Dahmer. The illustration is creepy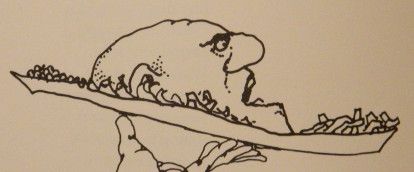 Little Abigal and the Beautiful Pony - tells the story of a girl that DIES because he parents didn't get her what she wanted. and then says at the end "this is a good story to read to your folks when they won't buy you something you want."
Friendship - bossy friend
Hinges - creepy with illustration

Skin Stealer - do you remember the movie Pan's Labyrinth, do you remember the Child Eater from it? I now introduce you to...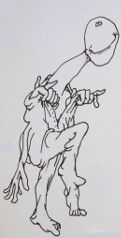 Skin Stealer
Clarence - trades in his parents
Kidnapped - the illustration is a child sitting on a crate bound by "mummy wraps" with chains and padlock to the floor. The poem tells us about a child getting kidnapped, hands tied behind their back with "sharp and rusty wire", blindfolded, a shotgun pointed at them.
I can see adults getting a kick out of this, but to hand this over to a child and say , there ya go, read this!
NO
I agree with what Common sense media wrote: